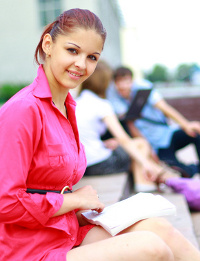 Do you wonder what writing style is? Do you think perhaps you need to improve your own? Or perhaps you have the sneaking suspicion that what your writing style is sometimes may not match what's called for? Congratulations, if you understand the need for different approaches for different papers, you are on the right track! This means you have a real chance of success. Luckily, this is a condensed writing style manual, which will help you to understand when to write in which fashion.

What is writing style? Defined in simple terms

Writing style is the manner in which you usually present your ideas in writing. Even though it is highly individual like your signature, there are a number of criteria which can be used to evaluate any writing style:

grammar;
sentence structure;
clarity;
assertiveness;
use of metaphors;
word choice;
tone.

What is writing style? Don't confuse it with citation style!
Easily confusing writing style with citation style, a student might ask, "What is APA writing style?" Various citation styles, such as APA, MLA, Chicago, Harvard, Turabian and others, prescribe the format of reference lists and in-text citations.

Warning: Citation styles never vary. A Harvard reference list will always display bibliographic data the same way. Writing style can vary from writer to writer, and from genre to genre by the same writer.

What is writing style? Main elements

Has your instructor ever warned you that if you plagiarize, he/she will know it even without using special software? Sad but true! As a bird is known by its call, or a car by the sound of its motor, you can be recognized by your writing style. To see how this is possible, look closely at the elements of style which mark your writing unmistakably:
word choice;
sentence structures;
punctuation;
figures of speech;
clichés.

What is writing style in literature?

Using these elements, you could discuss the writing style of an author in Literature courses. All outstanding writers and poets have their unique writing styles. For instance, the writing style of Hemingway is characterized by straightforward grammar, Anglo-Saxon words, and short, action-oriented sentences. In contrast, the writing style of Charlotte Bronte was more complicated. Metaphors and descriptive words illuminated her characters' interior lives.

What is your writing style and when to change it?


Similarly, you may evaluate your own writing style and define its main features. Ask yourself if you use simple or complicated sentences. Do you use appropriate figures of speech and avoid clichés whenever possible?

However, even if your writing style is brilliant, try, always to tailor it to the situation and the goal of your document. You should differentiate between
formal writing style;
business writing style;
academic writing style.
The words used on Facebook would be inappropriate for a business letter. Moreover, you could hurt your correspondent's feelings.

For example, working on your academic papers, use 'impressive' instead of 'awesome', 'dollar' instead of 'buck' and 'policeman' instead of 'cop'. Try to be polite and spoon-feed your instructors, tailoring your language to the situation. Certainly, your instructors could understand slang but they won't appreciate it.

What is writing style? A chance to express yourself

Even if you cherish no ambitions to become a poet, you can make your papers original and recognizable. Every academic project is a new chance to express your individuality. However, uniqueness does not permit sloppy writing.

Warning: Grammar, format, punctuation, or spelling mistakes cannot be justified even in expressing your individual writing style. Understanding the main elements of writing style, tailor them to the situation and watch your grammar to express your individuality in academic papers.