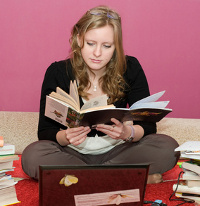 Students frequently do not like assignments that combine reading and writing elements. However, these tasks can be twice as effective as those based on only reading or only writing activities. If you want to know how to complete reading and writing assignments quickly and effectively, you should check the best innovative techniques briefly discussed below.
Reading and writing connection
Reading and writing are similar processes because they require a clear understanding of the meaning of words. There is a strong relationship between these two processes in your mind. For this reason, the connection between reading and writing is the best tool for learning languages or any study material. However, making notes of the most important points when reading texts is only one technique that can be used to combine reading and writing.
Reading and writing techniques
Here are the innovative techniques that can be helpful for gaining the maximum effects from your reading and writing sessions:
"Talk to the author". When reading the texts, imagine that you write a letter to the author of the text. Discuss the most interesting or confusing spaces, agree or disagree with the author.
"Personalizing content". Whenever possible, create links between the concepts discussed in the text and your personal experiences, and write down these associations.
"Focused notes". Find the most important themes or concepts in the text and write them down in the form of tables or mind maps.
"Summary/response writing". Divide the page into two equal parts. In one part summarize what you have read, and in the second part respond to it.
"Genre switching". Provide a creative response to what you have read by using a new genre. For example, after or when reading study materials, you can write an autobiography of one tooth, a romantic story of a triangle and a rhombus or draw a comics story summarizing a book.
"Flash cards". You may want to use flash cards and write on them important pieces of information from study materials as you read them.
"Translations". Use your own words to summarize what is written in your books. Deliberately avoid the words used by the author.
"Visual aids". Write a detailed explanation for tables you find in the text or create tables or graphs for the most difficult passages.
"Visual to verbal projects". Read a text, create a visual representation for it (graphs, tables, power point slides, posters) and then use this visual representation to give a speech.